Local SEO for Doctors: How Local Citation Building is an Effective SEO Strategy
One of the most common missing components of local SEO for medical practices is citations. Unfortunately, it's also the most important part of successfully promoting a medical facility online. Understanding what citations are, how important they are, and how to get them can help increase your medical practice's visibility online significantly to reach prospective patients before your competition.
Businesses ranking top 3 positions for a search term have more than those ranked in positions 4 to 6 or 7 to 10. (BrightLocal).



What Are Local Citations?
Local citations are any mention of your medical practice's name, address, and phone number (NAP). Citations can occur on local business directories, websites, and apps, and on social platforms. While a minimum amount of information that is required for most citations is just a name, address, and phone number, many directory websites offer many more opportunities to add additional information.
Medical Practice Details
Business Hours
Payment Options
Insurance Options
Covid-19 Information
Photo Gallery
Video Gallery
Social Media Channels
Staff Bios
Some of the most popular directory websites medical professionals have their information added to, include:
Google My Business
Facebook
Yahoo!
Bing Maps
Yelp
Why Local Citations Are Important to Healthcare SEO Marketing
Local citations are important to medical SEO marketing because it helps:
Internet users find medical professionals.
Positively impact local search engine rankings.
Rank the medical practice accurately on Google Maps.
Google, and other search engines, use local citations to check the accuracy of its information for a medical practice. The more citations a medical practice has the more trusted it is perceived by Google when it comes to sharing its information with visitors.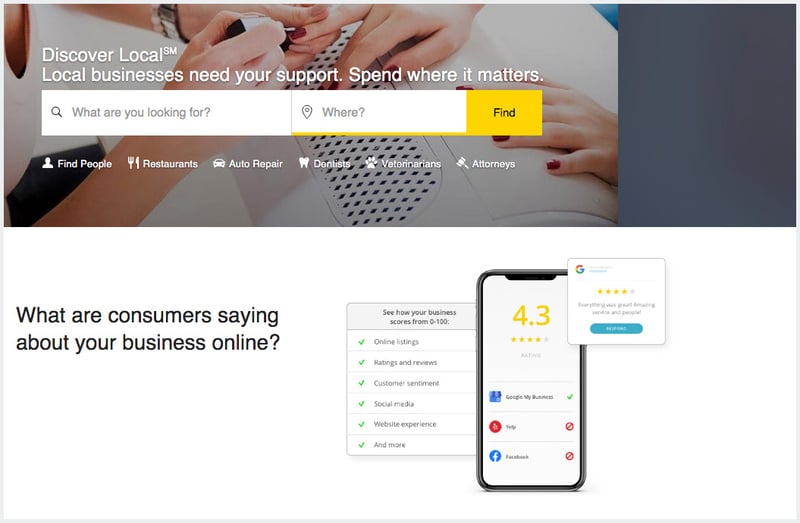 Getting Started with Local Citations to Jumpstart Your Healthcare SEO Strategy
Most medical practices already have some local citations, so the first step in incorporating citations into a medical SEO marketing campaign is to ensure they are accurate.
Manual Citation Auditing
Medical practices just starting with SEO should be able to audit their citations easily with a spreadsheet. Simply search for the medical practice's name or doctor's name in Google to see what websites come up that list NAP (Name, Address, and Phone Number).
All listings should be exactly the same. Any inaccuracies should be corrected.
Keeping track of citations on a spreadsheet can help medical SEO marketing greatly. As marketers can track accuracy, the number of citations, and new citations.
Automated Citation Auditing
Instead of searching for local citations for medical practices and potentially missing many of them, many medical SEO marketers use the various automated tools out there like our Free Healthcare Business Listing Tool.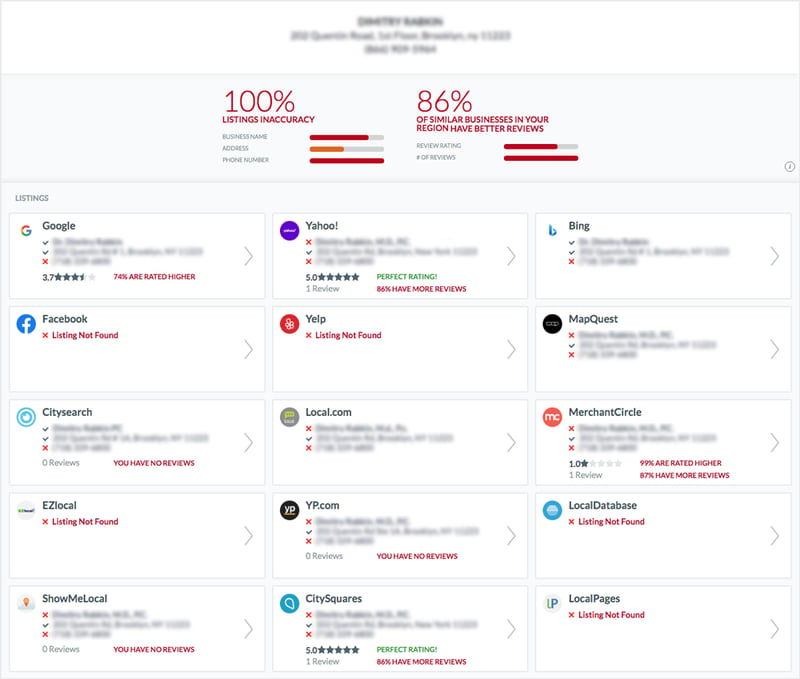 The Healthcare Business Listing Tool will identify all citations for a medical practice and verify the accuracy of the information available. Any inaccuracies can be easily corrected by going to the website that is hosting the information and creating an account to access the citation.
You can find online services that offer help (for a fee) in finding available directory listings you can submit your practice's business information to. The main differences between them are user interface, the level of management they provide, and pricing.


Passive vs. Active Local Citation Building
Many medical SEO experts will generate local citations manually by going into each directory for medical industries. While this is just the same as passive citation building, Google prefers the slow increase in exposure vs. a rush of listings being published all at once. Manual directory submission is also more cost-effective, which is why it is popular among medical practices. One of the downsides to active local citation building is the amount of time and resources needed to manage your listings.
The risks of passive (automated citation building) vs. active citation building (manually adding information to directories) include:
Automated citation building can lead to inaccuracies since the information is entered by a bot.
It is possible that more than one listing can be added to a directory with passive citation building and this is frowned upon by Google.
There's no awareness of where competitors are listing their business, which can lead to low-value directory submissions.
Passive or automated citation building doesn't usually include review management.
There isn't much control over where the medical practice is listed online when using automatic citation building.
Active citation building can be boring for people, especially after the 20th listing.
Manually entering information can lead to typos, which are viewed as inaccuracies.
The only way to check the accuracies of citations is to go through all citations in a spreadsheet to check them, which is time-consuming.
The benefits of passive vs. active citation building are:
Passive citation building can lead to high numbers of citations. The average number of citations for a medical practice is 101 and that can be achieved quickly with an automated directory listing service.
Automated directory listing services provide an easy way to check the accuracy of listings online. Changes are also easy to make by just changing the information in the account's profile.
Manual or active listing building offers maximum control over directory listings to make sure the correct directories are being utilized.
Manual citation building also allows for quick and easy review management to maintain a positive reputation online - important for medical professionals online.


Reach Prospective Patients First and Increase Patient Leads with Local Citation Building
Local citation building (passive vs. active) is highly important to the success of a medical practice's visibility online by prospective patients. In a survey by Doctors.com, 80% of people started their search for a healthcare provider online and three in five respondents choose one provider over another because of a strong online presence ( i.e. availability of relevant, accurate, and compelling information).
Local directory submissions along with healthcare SEO are the best ways to put your medical practice in front of people who need your services. Learn more in our free guide: